SEO Themes for WordPress.
Find your next WordPress theme for improved SEO.
Search engine optimization (SEO) is a crucial aspect of any website. Without proper optimization, your content may struggle to rank well on search engine results pages (SERPs), regardless of its quality. One effective way to enhance your blog's SEO is by using an SEO-friendly WordPress theme. In this article, we will explore some of the top SEO themes available for WordPress in 2023.
Importance of an SEO-Friendly WordPress Theme
An SEO-friendly WordPress theme is designed with SEO as a top priority. These themes feature a code base that enables search engines to easily index your site. They incorporate SEO best practices such as SEO headings, schema markup for featured snippets on Google, speed optimization, Google authorship, semantic HTML5 markup, and mobile responsiveness. Additionally, they provide user-friendly SEO options in the backend, allowing you to customize and improve your SEO further. By using an SEO-friendly theme, you give your website a solid foundation for organic traffic growth.
The Best SEO WordPress Themes for 2023
Determining the level of SEO optimization in a theme can be challenging, as some features are often hidden. However, after conducting thorough research, we have curated a list of some of the best SEO WordPress themes for your website. Whether you prefer free or premium options, you'll find a suitable theme on our list.
GeneratePress is a lightweight and versatile theme renowned for its SEO-friendliness. It prioritizes fast loading speeds and clean, optimized code. This theme also integrates well with popular SEO plugins, providing you with increased flexibility and control over your website's optimization.
Divi is a highly customizable theme that offers excellent SEO capabilities. It features a visual builder, allowing you to design your website effortlessly. Divi's built-in SEO options, coupled with its responsive design and fast loading times, make it an attractive choice for SEO-conscious website owners.
Schema is acclaimed as the fastest SEO WordPress theme available. It boasts pre-configured support for rich snippets, which increases the visibility of your website's content on SERPs, leading to better rankings. The theme's code is optimized with a focus on SEO best practices. It is secure and extensively tested, ensuring a fast and reliable website experience.
Astra is a lightweight and feature-rich theme that excels in SEO optimization. Its SEO-friendly code ensures search engines can easily crawl and index your website. Astra also offers integration with popular SEO plugins, allowing you to enhance your website's visibility further.
OceanWP is a versatile and user-friendly theme with a strong emphasis on SEO. It provides a range of customization options to tailor your website's appearance and functionality. With its SEO-friendly code, responsive design, and fast loading times, OceanWP is an excellent choice for optimizing your WordPress site.
Neve is a lightweight and SEO-friendly theme designed to deliver optimal performance. Its clean and optimized code contributes to fast loading times and enhanced SEO rankings. Neve also offers seamless integration with popular SEO plugins, ensuring you have all the necessary tools for successful optimization.
Zakra is a modern and responsive theme renowned for its SEO capabilities. It offers a user-friendly interface and a variety of customization options. With its SEO-friendly code and compatibility with popular SEO plugins, Zakra empowers website owners to maximize their SEO efforts effectively.
SEOWP is a specialized SEO WordPress theme that prioritizes search engine visibility. It incorporates various SEO features, such as optimized HTML5 code, fast loading times, and semantic markup. SEOWP's comprehensive SEO options enable you to fine-tune your site's optimization and boost its rankings.
What about SEO Plugins?
When you are starting a blog an SEO-friendly theme is important, it's also advisable to utilize an SEO plugin to implement essential SEO techniques. Plugins like Yoast SEO and RankMath offer extensive SEO options, complementing those provided by your theme.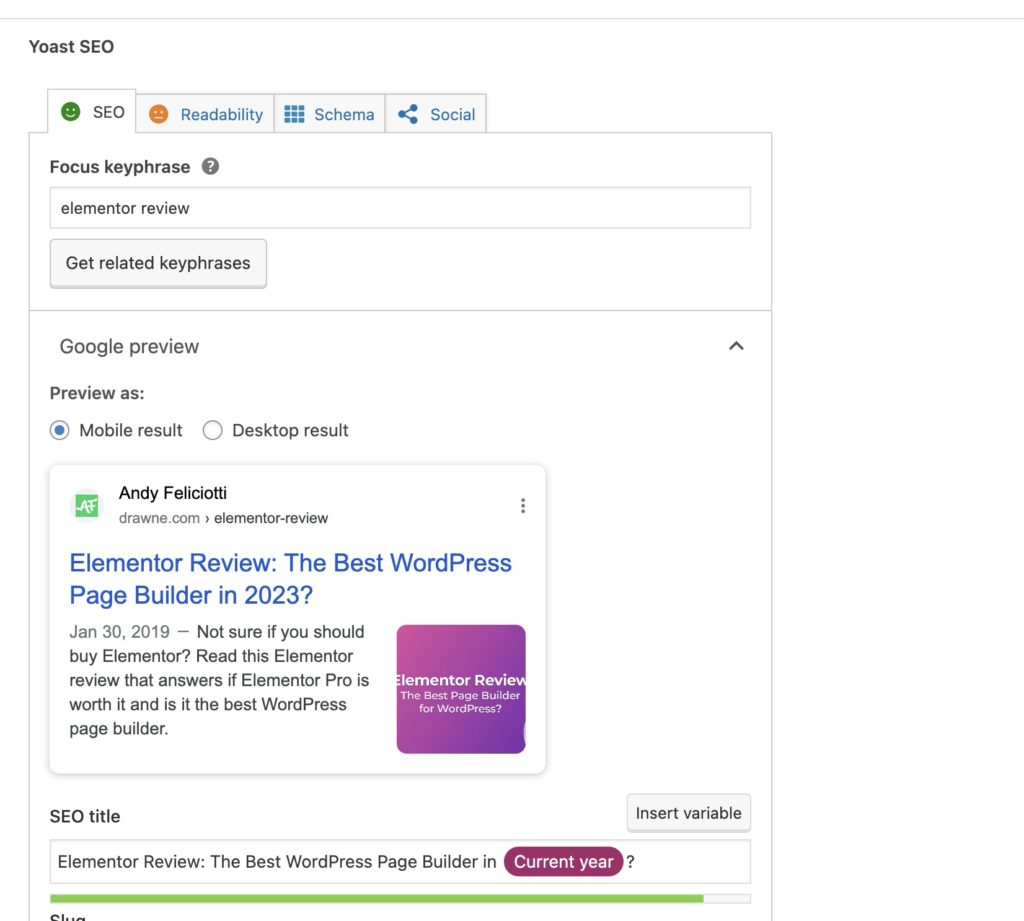 These plugins are particularly useful for deeper levels of on-page SEO and link building. It's essential to ensure that your chosen theme integrates well with these plugins. Additionally, there are various SEO tools available that can enhance your website's rankings beyond what SEO themes and plugins can achieve alone.
Can AI be used to improve SEO?
In the world of blogging ChatGPT has grown in popularity and is revolutionizing the way we approach SEO (Search Engine Optimization). AI tools like RightBlogger and Jasper AI can analyze vast amounts of data quickly, suggesting optimized keywords, predicting user behavior, and even suggesting content structures that resonate with readers.
With the help of AI, bloggers can identify which strategies are most effective for ranking higher on search engines. Furthermore, AI can automate repetitive tasks like tagging, image optimization, and even content creation to some extent. Simply put, incorporating AI in your blogging strategy can lead to better visibility on search engines and a more tailored experience for readers.
---
Conclusion
Selecting an SEO-friendly WordPress theme is vital for maximizing your website's organic traffic potential. The themes mentioned above offer excellent options for enhancing your site's SEO. Remember, while an SEO-friendly theme is crucial, utilizing an SEO plugin can further boost your optimization efforts. Choose a theme that aligns with your preferences and needs, and combine it with effective SEO practices to ensure your WordPress site ranks well on search engine results pages.
---
For more about SEO check out our blog.